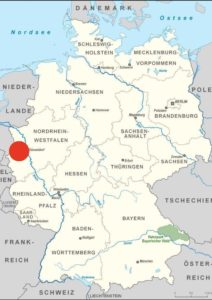 polish version bosnian version
Project title:
Solidarity with people with disability in Aachen
About us:
pax christi Aachen is part of the international peace movement pax christi international and pax christi Germany. With the aim of peace and reconciliation after World War II, it was founded as French-German movement. Peace and reconciliation are still part of our identity and daily work as well as social goals, equality and solidarity and civil conflict management. pax christi Aachen has not only acted in peace work locally and internationally with a great variety of projects, events and campaigns but also invented the annual Aachener Friedenslauf (run for peace) over 20 years ago, where nowadays up to 4.000 students of all ages and schools are participating every year in a sponsor-based run for peace in Aachen.
Another very important pillar of our work is concerned with voluntary services. For about 30 years we have been sending and receiving young adults as volunteers. We are coordinating services for peace projects in Palestine/Israel, Ecuador, Poland, North Macedonia, Kosovo and Bosnia and Herzegovina. Additionally we welcome every year up to four volunteers from Poland and Bosnia and Herzegovina in Aachen.
We are looking for:
We have four vacancies for volunteers between the age of 18 and 30 from Poland and Bosnia and Herzegovina in Aachen. Volunteers should be open to people with disabilities, have the willingness to learn and engage, and should be interested in social work with (young) adults. They should be patient and reliable. Knowledge of German is welcome but no necessary condition for working in this field.
The volunteers' tasks and responsibilities:
The tasks and duties are mainly based in the fields of health and wellbeing, inclusion, social assistance and welfare.
Assisting with entertainment activities (accompanying on trips, playing, etc.)
Support in everyday activities (doing laundry, shopping, preparation of food, etc.)
Assisting in the daily hygiene with washing, showering, etc.
Assistance with the mobility (e.g. guiding blind persons or navigating a wheelchair)
Supporting the realization of peace projects (e.g. the run for peace in Aachen)
Daily office work (writing and translating mails, preparing material, etc.)
The volunteers work for and with people with disabilities during their voluntary service in external housing groups in Aachen and support the staff in care and support. The participants get to know the practical work with people with disabilities as well as the degree of inclusion in Germany. In particular, they promote the autonomy of the residents and support them in their social participation. This makes people with disabilities more visible in German society. At the same time they experience and convey intercultural experiences and contribute to a diverse society in which they get to know new people with individual challenges. Additionally there is the chance to work, depending on the workload, in our office. For example in preparation of our annual peace run there might be times where our volunteers assist in organisational duties.
We provide:
The volunteers live in an international volunteer flat in Aachen, the costs for accommodation are covered by the hosting organisation. They are accompanied by their predecessors, mentors, employees and volunteers of pax christi as well as work instructors of the work site. They will receive the CIGNA insurance (additional or full coverage), a bus ticket, a language course and monthly seminar days. The volunteers receive 300€ per month as pocket money and money for food. Additionally the volunteers have the opportunity to eat for free at the working place. Two seminars are provided by the program – transportation will be provided by the hosting organization. Additional seminar days and a feedback workshop at the end of the year are also organized by pax christi.
Application deadline:
The voluntary year usually starts from September 2023, but we are also able to start earlier or on a later date if the positions are still available. Depending on visa and other organizational processes we will individually look for the best solution and starting time.
We are really looking forward to getting to know you!